North Mississippi Allstars will headline the 2014 BankPlus International Gumbo Festival in Jackson, MS on Saturday September 20 in Smith Park. Other bands include Big Sam's Funky Nation, The Wild Magnolias, and The Soulshine Family Band featuring Andrew Pates. Tickets go on sale Friday June 20 at 10:00 AM.
North Mississippi Allstars will headline the 4th annual Ed Fest: Craft Beer & Music Festival in Edwards, Colorado on August 16, 2014. The festival will be hosted at the Soccer Fields at WECMRD from 3:00pm to 10:00pm and will feature over 40 national, regional and local breweries pouring samples of their handcrafted beers and ciders
There have been two venue changes to the North Mississippi Allstars European summer tour supporting Robert Plant and the Sensational Space Shifters.
June 10 – Gothenburg, Sweden – New Venue: Lisebergshallen
June 23 – Cologne, Germany – New Venue: E-Werk
In addition, the following dates in Spain have been cancelled due to scheduling conflicts. Tickets can be refunded through local ticketing agents.
July 24 – Bilbao, Spain – Guggenheim Bilbao
July 26 – Cartagena, Spain – La Mar de Musicas
July 27 – Malaga, Spain – Plaza de Toros (Bullring)
July 29 – Madrid, Spain – Palacio De Los Deportes
This hill-country Cream, led by guitarist Luther and drummer Cody Dickinson, took a rare leap off the stage – literally. Sporting a diving goggles and a hockey-goalie mask, Cody took his snare drum into the VIP pit, followed by Luther on bass drum and the rest of their troupe, then up a security aisle in a Mississippi second-line parade, through the crowd…
Read the Full Article Here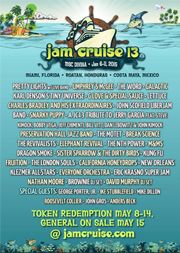 The Word, featuring John Medeski (Medeski Martin & Wood), Robert Randolph (Robert Randolph & the Family Band), Luther & Cody Dickinson (North Mississippi Allstars) and Chris Chew will play JamCruise 13. The cruise will take place January 6-11, 2015 on the MSC Divina leaving from Miami, FL.
Cabin reservations and ticket sales begin May 15. More info at www.jamcruise.com